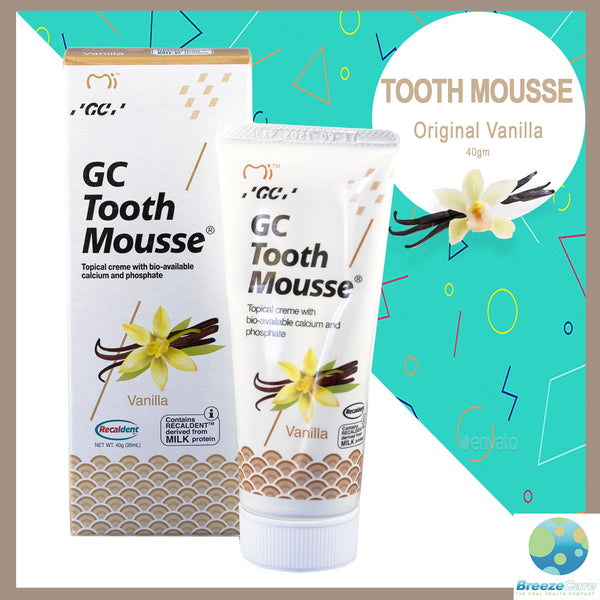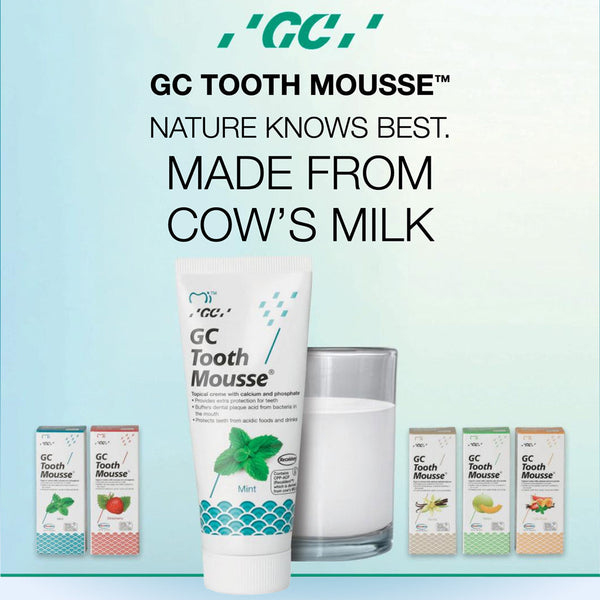 Description
Tooth Mousse is a delicious tasting crème that contains calcium and phosphate; the major minerals teeth are made from. Because calcium and phosphate are carried in a special milk-derived protein called RECALDENT™ (CPP-ACP), they are available in a soluble form. This means GC Tooth Mousse can provide extra protection for teeth, buffer dental plaque acid from bacteria in the mouth and also protect teeth from acidic foods and drinks.
Learn more about Tooth Mousse.
GC Tooth Mousse Original contains CPP-ACP (RECALDENT™) which is derived from cow's milk. GC Tooth Mousse® also contains hydroxybenzoates and soybean products. Do not use this product if you have a suspected or proven allergy to milk proteins, benzoate preservatives or soybean products. In case of an allergic reaction: stop use, rinse mouth with water and seek medical advice. RECALDENT™ and RECALDENT™ device are trademarks of Mondelez International group used under license. CPP-ACP technology has related patents or patents pending in Australia, New Zealand, Europe, Canada, and USA.
Ingredients: Pure water, Glycerol, CPP-ACP, D-sorbitol, CMC-Na, Propylene glycol, Silicon dioxide, Titanium dioxide, Xylitol, Phosphoric acid, Flavoring, Zinc oxide, Sodium saccharin, Ethyl p-hydroxybenzoate, Magnesium oxide, Guar gum, Propyl p-hydroxybenzoate, Butyl p-hydroxybenzoate. Tube Size is 40gm NET.
If symptoms persist, talk to your healthcare professional. Always read the label and follow directions for use.
Shipping Information
FREE POST WORLDWIDE - Over $99.95
*excludes Recaldent items shipped outside Australia
Shipped from our warehouse in Sydney, Australia
Payment & Security
Your payment information is processed securely. We do not store credit card details nor have access to your credit card information.
Shop More Tooth Mousse Products