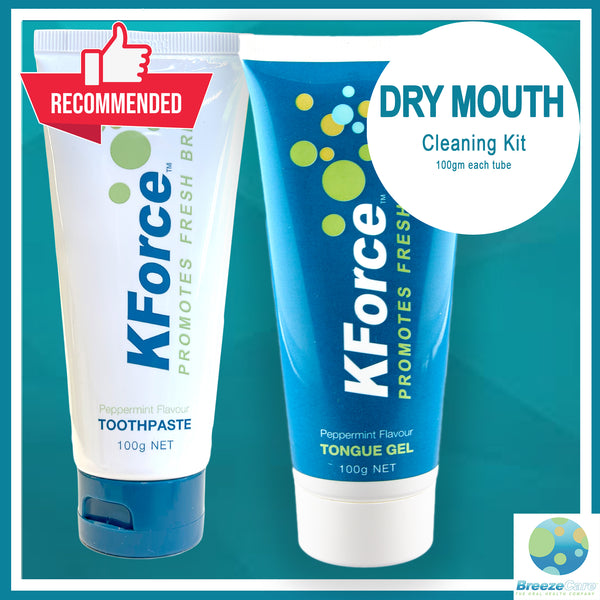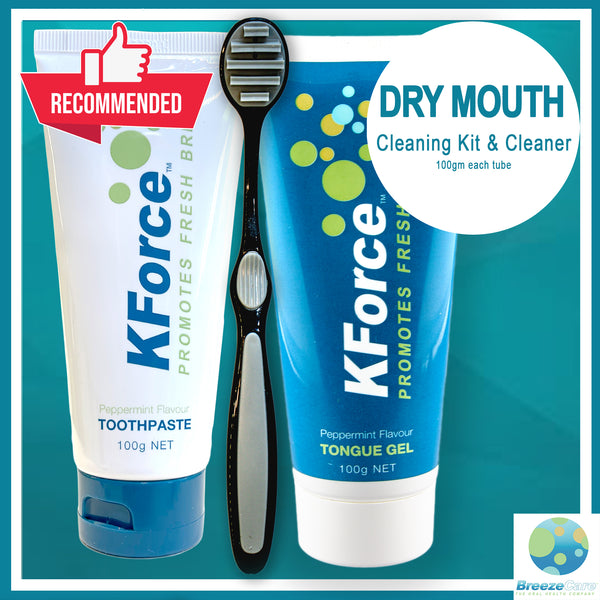 Description
If you have any Dry Mouth condition - you should use a cleaning system that does not contain an ingredient called SLS (sodium laurel sulphate). This ingredient is usually found in your normal toothpaste as it creates the foaming action. However it is a detergent that can significantly dry the mouth and even cause mouth ulcers "apthous ulcers". KForce cleaning kit does not contain SLS, and our tongue gel also contains natural health Propolis, to help the soft tissues of the mouth that are affected most by dryness.
1. KForce Tongue Gel - a healthy Propolis non-foaming tongue cleaning gel. It will leave a minty extreme fresh feeling on your tongue.
Ingredients: Sorbitol, Hydrated Silica, Purified H20, Xylitol, Glycerin, Peppermint Oil, Sodium Methyl Cocoyl Taurate, Xanthan Gum, Potassium Pyrophosphate, Zinc Gluconate, Propolis Extract, Sodium Fluoride, Sodium Pyrphosphate, Sodium Citrate, Citric Acid, Sodium Benzoate, Sucralose, Aloe Barbadensis, Grape Seed. Tube 100g.
2. KForce Mint Toothpaste - non-foaming fluoride toothpaste. Professionally designed for teeth with low abrasion index and zero aftertaste.
Ingredients: Sorbitol, Silica, Water, Xylitol, Potassium Nitrate, Glycerol, Peppermint Oil, Sodium Methyl Cocoate Taurate, Titanium Dioxide, Xanthan Gum, Sodium Fluoride, Steviol glycosides, Potassium Sorbate, Sodium Benzoate, Citric Acid. Tube 100gm
Shipping Information
FREE POST WORLDWIDE - Over $99.95
*excludes Recaldent items shipped outside Australia
Shipped from our warehouse in Sydney, Australia
Payment & Security
Your payment information is processed securely. We do not store credit card details nor have access to your credit card information.