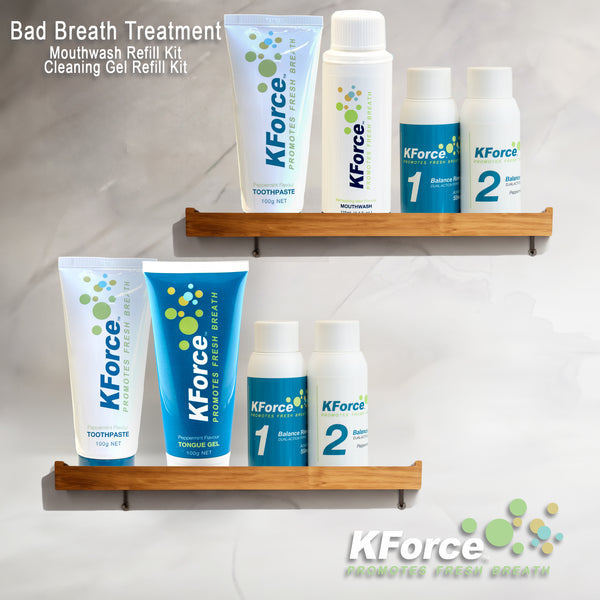 Description
If you have used one of our Starter Kits, the most effective way to purchase ongoing product is with a Refill kit. Each kit contains everything needed for 20Days and comes individually packed.
KForce Toothpaste: Sorbitol, Silica, Water, Xylitol, Potassium Nitrate, Glycerol, Peppermint Oil, Sodium Methyl Cocoate Taurate, Titanium Dioxide, Xanthan Gum, Sodium Fluoride, Steviol glycosides, Potassium Sorbate, Sodium Benzoate, Citric Acid. Tube 100gm
KForce Tongue Gel: Sorbitol, Hydrated Silica, Purified H20, Xylitol, Glycerin, Peppermint Oil, Sodium Methyl Cocoyl Taurate, Xanthan Gum, Potassium Pyrophosphate, Zinc Gluconate, Propolis Extract, Sodium Fluoride, Sodium Pyrphosphate, Sodium Citrate, Citric Acid, Sodium Benzoate, Sucralose, Aloe Barbadensis, Grape Seed. Tube 100g.
KForce Balance Rinse: Purified H2O, Sodium Hypochlorite, Sodium Hydroxide, Citric Acid, Cetylpyridium Chloride, Pluracare F127, Xylitol, Sodium Benzoate, Glycerin, Spearmint, Peppermint or Vanilla Mint Flavours, Menthol Oil (in Original Strength), Tween 20. Bottle Set 110mL.
KForce Daily Rinse: Purified H2O, Glycerol, Flavour, Zinc Gluconate, Pentasodium Triphosphate, Sodium Cocoyl Sulphate, Poloxamer 127, Triclosan, PVP, Tetrasodium EDTA, Citric Flavour, Colourant. Bottle Size is 190mL.
Shipping Information
FREE POST WORLDWIDE - Over $99.95
*excludes Recaldent items shipped outside Australia
Shipped from our warehouse in Sydney, Australia
Video - KForce Refill Kit
Dr. Speiser has been on many television shows. You can see our collection of videos on our Youtube Channel.
Payment & Security
Your payment information is processed securely. We do not store credit card details nor have access to your credit card information.