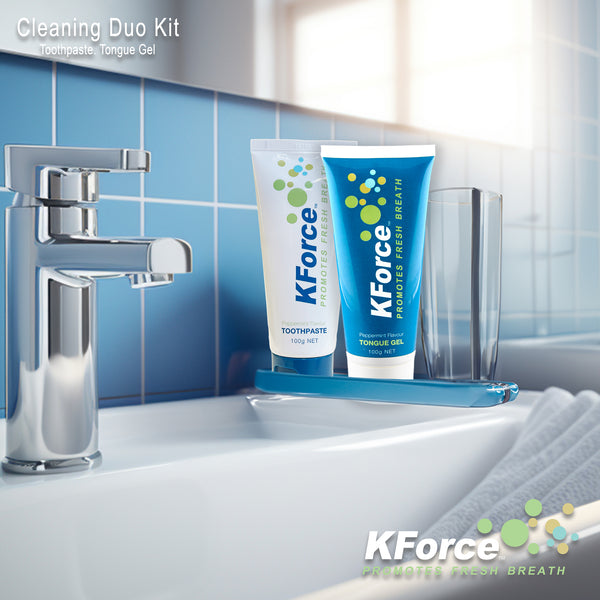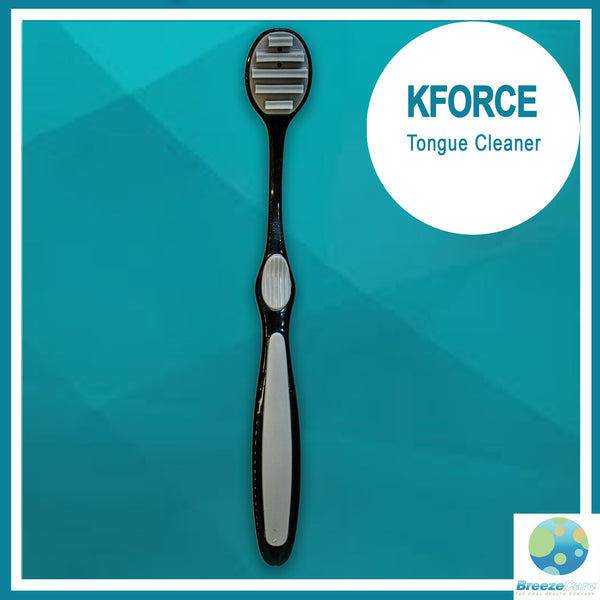 Description
1. KForce Tongue Gel - a healthy Propolis non foaming tongue cleaning gel.
Ingredients: Sorbitol, Hydrated Silica, Purified H20, Xylitol, Glycerin, Peppermint Oil, Sodium Methyl Cocoyl Taurate, Xanthan Gum, Potassium Pyrophosphate, Zinc Gluconate, Propolis Extract, Sodium Fluoride, Sodium Pyrphosphate, Sodium Citrate, Citric Acid, Sodium Benzoate, Sucralose, Aloe Barbadensis, Grape Seed. Tube 100g.
2. KForce Mint Toothpaste - a whole mouth cleaning toothpaste.
Ingredients: Purified H2O, Sorbitol, Silica, Potassium Nitrate, Glycerin, Xylitol, Sodium Bicarbonate, Peppermint (Mentha Pipenta), Sodium Methyl Cocoyl Taurate, Titanium Dioxide, Xanthan Gum, Sodium Fluoride, Sodium Benzoate, Sucralose. Tube 100gm.
3. KForce Tongue Cleaner
NOTE: If you feel you collect mucous at the back of your throat, you need to clear your throat, or you have any sinus issues, then we recommend you add the Nasal Spray to your kit.
Shipping Information
FREE POST WORLDWIDE - Over $99.95
*excludes Recaldent items shipped outside Australia
Shipped from our warehouse in Sydney, Australia
Video - Fresh Breath Kit
Dr. Speiser has been on many television shows. You can see our collection of videos on our Youtube Channel.
How To Use - Fresh Breath Kit
Step 1: Use KForce Tongue Gel
Using a "pea size" amount, gently brush the gel into the surface of the tongue. Try to get to the very back of the tongue.
Then scrape the tongue with a tongue cleaner, moving from the back of the tongue to the front of the tongue. You can spit out if necessary.
Step 2: Use KForce Toothpaste
Again, using a "pea size" amount, brush and clean your teeth, without adding water to the brush. You want to keep the toothpaste concentrated. You can spit out when finished if necessary.
Step 3: Cleaning Between Teeth
Use floss and Interndental brushes to clean between the teeth. These tools will pull the remaining toothpaste between the teeth for extra good cleaning.
Step 4: Rinse Your Mouth
Finally rinse your mouth with water. We advise not treat for 30 minutes after cleaning your mouth.
NOTE: If using the optional Nasal Spray, then we recommend using this first, wait a minute for the saline to travel from the nose to the throat. Spit out any spray that makes it into the mouth and rinse. Then start the cleaning instructions above.
Payment & Security
Your payment information is processed securely. We do not store credit card details nor have access to your credit card information.