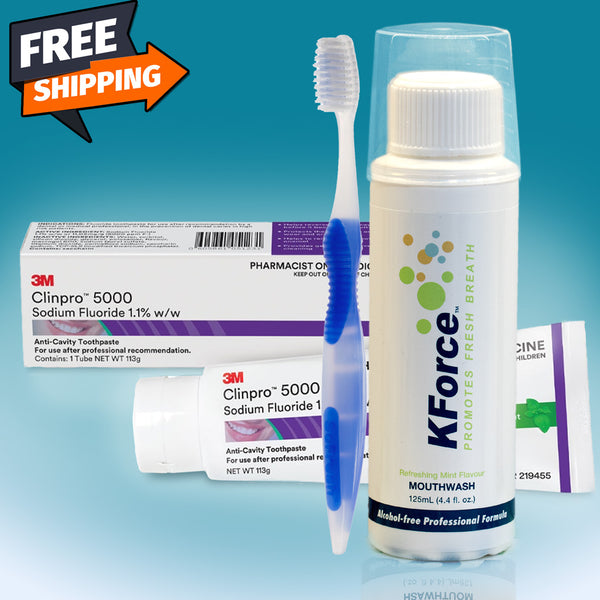 Description
3M ClinPro Toothpaste - advanced formula contains ingredients to stop tooth decay. This winning formula delivers more fluoride, helps strengthen enamel and helps reverse white spot lesions. The active ingredient that helps with this is Tri-Calcium Phosphate (a building block of enamel);

Ingredients: Purified Water, Sorbitol, Hydrated Silica, Glycerin, Polyethelyene-Polypropylene Glycol, Flavour, Polyethylene Glycol, Sodium Lauryl Sulphate, Titanium Dioxide, Carboxymethyl Cellulose, Sodium Saccharin, Sodium Fluoride (950ppm), Tri-Cacium Phosphate. Tube Size is 113gm.
KForce EveryDay Mouthwash - a great mouthwash for use during the day after lunch or meals. It is alcohol free, sugar free, and contains Erythritol a natural healthy sweetener.
Ingredients: Demineralised water, Cetylpyridium Chloride, Pluracare F127, Erythritol, Sodium Benzoate, Citric Acid, Glycerin, Tetrasodium EDTA, Green Tea Extract, Hydrogen Peroxide, Polysorbate 20, Peppermint Oil. Bottle Size is 125mL.
Orasweet Toothbrush contains soft flossing bristles that clean deep between teeth and under gums removing plaque and reducing surface stains. Ergonomic handle grip for support and comfort.
KForce Travel Bag a great little bag to keep all your "on-the-go" needs together in one convenient bag.
Shipping Information
FREE POST WORLDWIDE - Over $99.95
*excludes Recaldent items shipped outside Australia
Shipped from our warehouse in Sydney, Australia
Payment & Security
Your payment information is processed securely. We do not store credit card details nor have access to your credit card information.