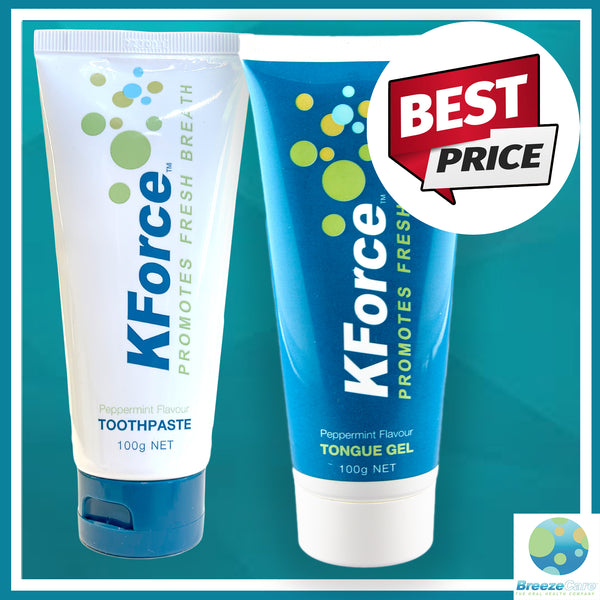 Description
Each kit contains
1. KForce Tongue Gel - a healthy Propolis non foaming tongue cleaning gel. 
Ingredients: Sorbitol, Hydrated Silica, Purified H20, Xylitol, Glycerin, Peppermint Oil, Sodium Methyl Cocoyl Taurate, Xanthan Gum, Potassium Pyrophosphate, Zinc Gluconate, Propolis Extract, Sodium Fluoride, Sodium Pyrphosphate, Sodium Citrate, Citric Acid, Sodium Benzoate, Sucralose, Aloe Barbadensis, Grape Seed. Tube 100g.
2. KForce Mint Toothpaste - a "whole mouth cleaning paste". 
Ingredients: Sorbitol, Silica, Water, Xylitol, Potassium Nitrate, Glycerol, Peppermint Oil, Sodium Methyl Cocoate Taurate, Titanium Dioxide, Xanthan Gum, Sodium Fluoride, Steviol glycosides, Potassium Sorbate, Sodium Benzoate, Citric Acid. Tube 100gm
Shipping Information
FREE POST WORLDWIDE - Over $99.95
*excludes Recaldent items shipped outside Australia
Shipped from our warehouse in Sydney, Australia
Payment & Security
Your payment information is processed securely. We do not store credit card details nor have access to your credit card information.